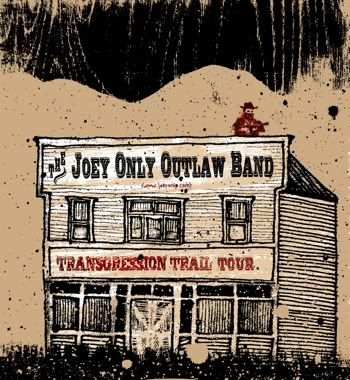 CD RELEASE TOUR
April 17: "TRANSGRESSION TRAIL" CD RELELEASE PARTY, Rickshaw Theatre, Vancouver, BC w/ Brooke Wylie and the Coyotes, Kent McAlister and the Iron Choir, and Matt Olah of Cowpuncher
May 1: The Loft, Kamloops, BC
June 17: The Royal, Nelson, BC
June 18: Sleep Is For Sissies, Winlaw, BC
June 19: Sirdar Pub, Sirdar, BC
June 23: Bushwakkers Pub, Regina, SK
June 24: Lydia's, Saskatoon, SK
June 26: Mondragon, Winnipeg, MB
July 1: CANADA DAY at Hooliganz, Edmonton, AB w/ Give Em Hell Boys and Whisky Wagon
July 2: The Taphouse, St. Albert, AB
July 3: Hooliganz, Edmonton, AB
July 7 @ 9:00pm & July 8 @ 12:00pm: STAMPEDE 2010 at the Palomino Smokehouse, Calgary, AB
July 9: Twin Butte General Store, Twin Butte, AB
July 10: Auditorium Hotel, Nanton, AB
July 13-14: Rose & Crown, Banff, AB
July 15: Mojo's Java, Edson, AB
July 16: The Legion, Jasper, AB
July 17: MOREFREE MUSIC FESTIVAL, Mackenzie, BC
July 24: BRANDON FOLK FESTIVAL, Brandon, MB
July 30: ARTSWELLS FESTIVAL, Wells, BC
August 8: UNDER THE VOLCANO FESTIVAL, North Vancouver, BC
August 21: WINLAW MUSIC FESTIVAL, Winlaw, BC
August 27: MUSIC ON THE MOUNTAIN FESTIVAL, Fort St. James, BC
CONTACT / LINKS
Joey Only Outlaw Band's WEBSITE
Joey Only Outlaw Band's MYSPACE
Joey Only Outlaw Band on CBC RADIO 3
Joey Only Outlaw Band on YOUTUBE
with The Joey Only Outlaw Band...
The Joey Only Outlaw Band are celebrating the release of their shiny new album, and Joey's birthday present to himself, "Transgression Trail". The country punk outlaws are ecstatic to finally culminate what they've worked so hard for over the years. A relentless force on the tour circuit across Canada, for years Joey Only and his band of (innocent) rogues have been spotted from west to east, causing storms of dancing fury in front of stages wherever they are, in addition to the odd ruckus, happening or anarchist up-start. A regular sight on the festival circuit, the group has enjoyed playing ArtsWells Festival, the Robson Valley Music Fest, and will be playing a whole host of others during summer 2010 along with their extensive touring schedule. Listed are all the upcoming Joey Only Outlaw Band dates this summer, so if there's one in your city or town, DON'T MISS IT!! Watch for more May & June shows to be added as well as eastern Canadian tour dates in November 2010!!
Kicking off the CD Release tour with a special show at the Rickshaw Theatre in Vancouver, BC, the Joey Only Outlaw Band is bringing in some of their favorite Canadian acts to help make the show a smash hit. A favorite hailing from Calgary, AB are Brook Wylie and the Coyotes, who are themselves celebrating the recent release of their acclaimed album "Heart on the Line". Brooke and her gang, comprised mostly of former members of Saskatoon's rockabilly powerhouse Five Star Homeless, are new to Vancouver's music scene and a sure bet on a good time. Also hailing from Calgary and joining Brooke for the show is Matt Olah of alt-country act Cowpuncher, a perfect addition to the rollicking country theme of the evening. Vancouver's favorite alt-country group Kent McAlister and the Iron Choir will take the stage as well, promoting their latest release "How I'll Remain" in addition to celebrating with the Outlaws. Don't miss the Transgression Trail CD Release Party, it's likely to be the best outlaw-punk-alt-kung fu country show you ever did see!
FOR MORE INFORMATION ON THE JOEY ONLY OUTLAW BAND CLICK: